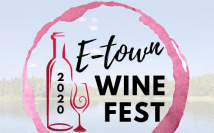 The Elizabethtown Wine Festival, which is scheduled to take place this September, now has their tickets on sale. 
City Events Manager Sarah Vaughn says pre-sale tickets are $20, which includes the tasting, and $10 for those not taking part in any tastings.
Vaughn says that social distancing will be required at the event, which is slated to be held at Freeman Lake Park. The pre-sale tickets can be purchased through the City of Elizabethtown webpage.